A great event in Madrid
O
n the afternoon of March 30, 1880, King Alfonso XII and Queen María Cristina officially opened the station. Madrid newspapers and specialised journals such as El Globo. Diario Ilustrado, La Ilustración Española y Americana, El Conservador, Revista de Obras Públicas, etc., covered the event.

Paseo de las Delicias was magnificently adorned for the occasion with flagpoles, flags and coats of arms. Flanking both sides of the road, leading from the avenue down to the main building, were military formations of engineers, infantry and civil guards, while carriages passed by taking guests to the event. The surroundings thronged with people without an invitation and those that did have one entered the building.

The solemn event was attended by the Government, Madrid authorities and distinguished guests. Once inside, they sat down in seats placed on the platforms for the occasion. The ceremony began with a brief speech from the president of the company's board of directors, recalling that "this is the opening of the permanent station, the foremost one in Madrid." The jubilant king replied with another eloquent discourse expressing admiration for the finished project, which was a celebrated testimony to work, science, progress and prosperity.

The guests then watched the beautiful spectacle of five trains (express, mixed, mail, ballast and freight) entering, at the same time, along the tracks of the building's main body. Their locomotives, adorned with flags and trophies, whistled and belched out white columns of smoke, while the band of engineers played a musical piece. The monarchs and guests then visited the main rooms. Finally, the railway company gave the women elegant bouquets of flowers and invited the guests to a magnificent buffet in one of the halls.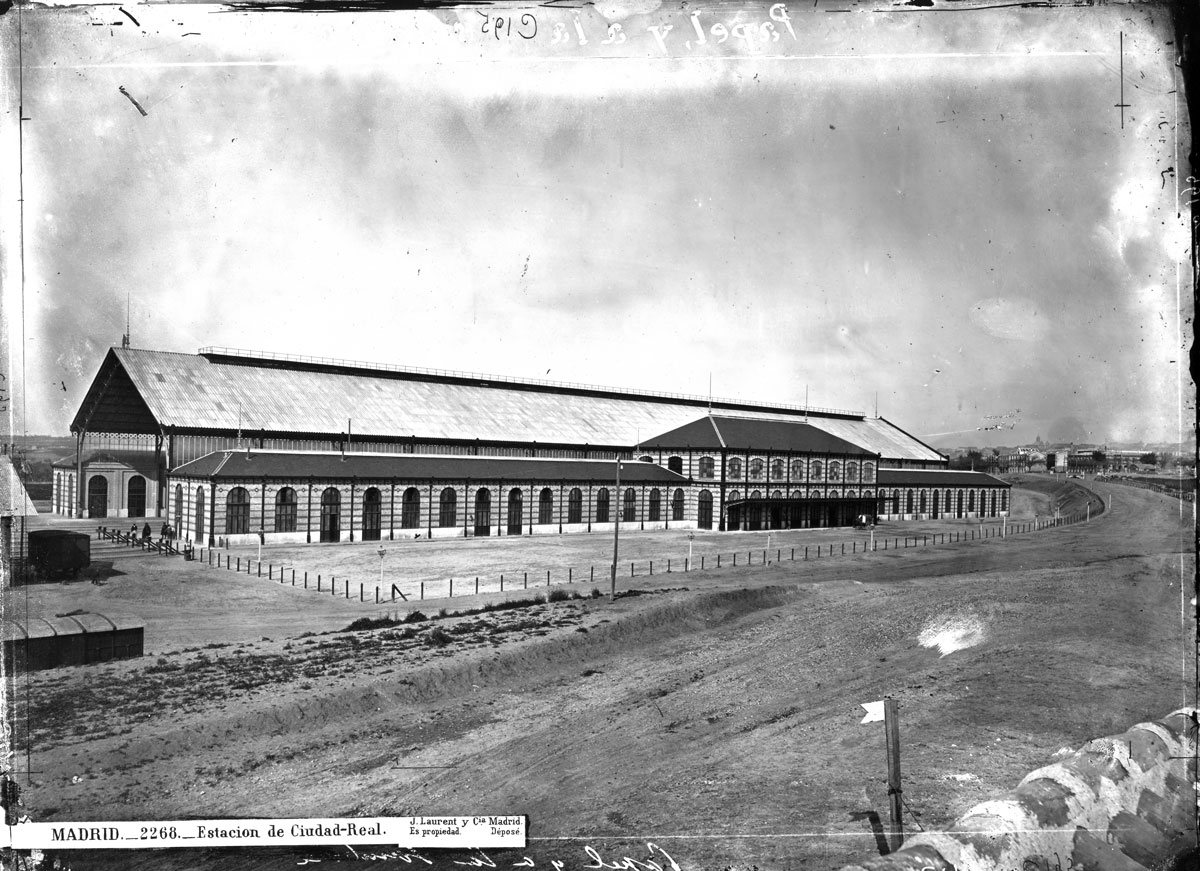 Ciudad-Real [Delicias] Station, passenger building's departures pavilion. Circa 1880-1881. Photo: J. Laurent and Co. The Cultural Heritage Institute of Spain (IPCE)
Opening of Delicias Station on March 30, 1880. La Ilustración Española y Americana magazine´s chronicle (in spanish)